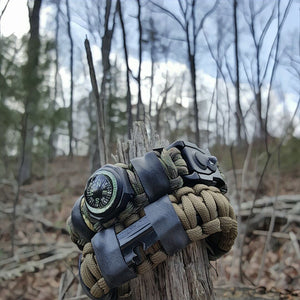 Survival Gear: Superesse Straps (Veteran Owned Business)
As you well know, the market for survival gear has increased significantly.  Knowing what to do in case of an emergency is a key piece of knowledge, especially during the times we live in today.  While knowledge is power, it sometimes isn't enough to survive, you most likely need the proper gear and tools to get you through.
While it's impossible to forecast the next disaster or even minor "inconvenient" situation, one can at lease prepare ourselves with common tools that be used in a variety of situations.  However, as we all know Every Day Carry (EDC) can weigh you down.  So how do we prioritize our EDC without overloading our pockets, belts, etc. with too much gear on a daily basis?  One solution, Superesse Straps, a company owned and operated by Wesley Superesse a former US Army Special Operations Command soldier, and current TRADOC Army instructor and law enforcement officer.
Wesley has refined and continues to improve how he can pack as much useful survival gear into a paracord bracelet.  He began this venture as a hobby while in the Army, making 550 paracord bands for fellow soldiers.  As word caught on, so did the demand.
There are multiple companies and varieties of paracord bracelets, but few have as much utility as Wesley's.  One look at his website www.superessestraps.com and you'll see that these are not your everyday bracelets.

EDC SURVIVAL
Superesse straps offers the ability to customize their bracelets with tools such as snare traps, fire starters, water purification tablets and signals, to name just a few.  If you get overwhelmed and cannot decide what to put in your bracelet, Wesley offers a line of pre-designed straps such as the "Bug Out Bracelet", the "SERE Sidekick" and the "First Responder Strap", for example.
Check out these examples from Superessestraps.com
#BugOutBracelet- Paracord Bracelet with survival supplies hidden inside the core and EDC tools attached to the outer strap for easy access.
When your other supplies are not available you can rely on this Bug Out Bracelet. It's a micro survival kit equipped with a loadout of gear allowing you to start a fire, build shelter, purify water, signal for help, waterproof a poncho, replace a shoelace, fish, carve an arrow/fashions bow, set a snare trap, tighten a lose screw, boil/cook, open a can of food, skin an animal, white a note, signal, suture a wound, etc. It's a lightweight EDC Bug Out Bag(BOB) for your wrist or to attached to your backpack.
#EDCPrepper- Urban Paracord Bracelet for Everyday Carry, equipped with useful tools and supplies for daily tasks and sustained survival.
When the worst happens you need to be ready. This Every Day Carry(EDC) bracelet is a wearable survival and tool kit that is always on you. Inside this paracord strap you will find useful gear such as; a fire starter, cutting blade, LED light, compass, fishing kit, handcuff key and more. The EDC Prepper outfits you with the ability to lash together limbs to form a shelter/raft, suture a wound, start a fire, patch a torn tent, light your path in the dark, fish, navigate to a rally point, cut thru zipties/rope, escape handcuffs, and signal an alert. Forget pocket dumping a handful when you can strap it to your wrist.
#MedicStrap- First-Aid Medical Kit wrapped inside a bright safety orange paracord strap.
This paracord bracelet is a wearable first-aid kit equipped with tools and supplies for enduring a field emergency. The loadout will allow you to start a fire to ward off hypothermia, signal for help, prep/treat/disinfect wounds, fashion a tourniquet, and much more. Use the fire striker as a cutting tool. Tie straight sticks around a broken limb to make a splint. Make a stretcher by running paracord between two long sticks, or fashion a branch drag to move an injured person. Use the duct tape as moleskin to protect against blisters or frost bite. Quickly suture lacerations with the sterile reinforced strips. Clean a pre-op wound with the alcohol/iodine prep pad. Attend to stings/bites/infection s and more with included med-kits. All items wrapped inside a bright orange safety bracelet.  The items listed below will show TIPS that explain how you can apply them to medical scenarios.
As intricate and detailed as these bracelets can be, Superesse Straps also offers a line of simple bracelets and watch wristbands.  We highly encourage our readers to venture over to their website and take a look at all the possibilities.  Best of all Superesse Straps is a veteran and LEO owned business.  So go ahead and drop some coin for a fellow patriot and tell them Dagger Defense sent you.

SUPERESSE STRAPS WORKSHOP
---